Nottinghamshire horse centre targeted by attacks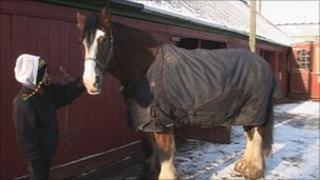 The owner of a horse centre in Nottingham said a series of robberies this year has left the business almost in ruins.
Lorraine Kirkham said West Bridgford Equestrian Centre near Nottingham has been targeted 45 times in the past eight months.
The staff said some of the horses had been attacked and injured.
Nottinghamshire Police said detectives were investigating but no arrests have been made.
Mrs Kirkham said: "It has had a massive effect… it seems like people are just trying to wreck the business I have worked for in the past eight years."
Horse covers have been slashed and wire fences cut in the paddocks, putting horses in danger, she added.