Nottingham University to get 'green' chemistry lab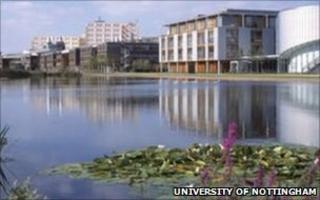 The pharmaceutical firm GlaxoSmithKline (GSK) has announced plans to build a "green" chemistry centre in Nottingham.
It is thought the facility, which would be built on its Jubilee Campus, will be the world's first carbon neutral chemistry laboratory.
The site will focus on research and development for a range of new drugs.
It forms part of a wider investment planned by the company after the government announced a lower rate of corporation tax for some industries.
'Record of excellence'
The measure, announced by Chancellor George Osborne, is designed to encourage investment in research and development and related manufacturing.
The government's so-called "patent box" reduces the tax rate on profits from a patent registered and then manufactured in the UK.
GSK said the new facility for Nottingham would support academic teaching and encourage "green" chemistry research.
The company's chief executive, Andrew Witty, said: "We've invested in Nottingham because it's one of the best universities in Britain, in fact the world, from a chemistry point of view.
"In fact the majority of our chemists who we hire into GSK come from Nottingham so we have a long history there.
"There's a great record of excellence in that school and they absolutely deserve that investment."