Freezing temperatures alert for Nottinghamshire roads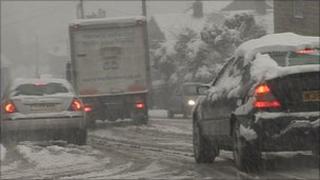 Further problems in Nottinghamshire due to snow and freezing temperatures are being forecast.
Mansfield and the north of the county were the worst affected areas with about 8ins (20cms) of snow falling during Tuesday.
About 90 schools were shut and more than 35 schools have already announced they will close on Wednesday.
More snow falls have been predicted and temperatures will also drop well below freezing.
Traffic was reported to be queuing on most routes north out of Nottingham during the evening rush hour, with the A38 in Mansfield worst affected.
Gritting plans
Mansfield District Council said it had sent some staff home early, particularly those in leisure services.
Some Nottingham bus services are being diverted because of the poor conditions and Trent Barton said it had suspended services to Chesterfield.
Nottingham City Council said it was planning to use 30 tonnes of gritting salt to protect the main routes overnight.
Richard Jackson, cabinet member for Transport and Highways at the county council, said they were monitoring the situation closely.
"We need to know when it's going to snow almost to the minute and we have 10-minute interval forecasts through the night.
"We need to know exactly when to put the salt down otherwise it can get covered in snow and wasted."