Nottingham stadium plan hit by World Cup blow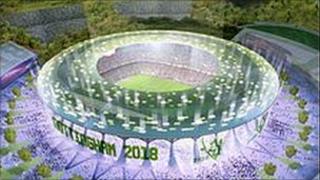 Plans for a new football stadium for Nottingham have been thrown into doubt after England's bid to stage the 2018 World Cup failed.
Twelve cities formed the bid, with Nottingham promising to build a 45,000-capacity venue as part of the bid, on land off the A52 at Gamston.
Fifa executives in Zurich voted to award the tournament to Russia.
Officials from the Nottingham bid said the decision not to choose England was a disappointment.
However, they said they would continue to attract world-class sport to the city.
Nottingham's World Cup bid director Hugh White said the driving force behind the new stadium had been Fifa's technical requirements
"That has now gone," he said.
"We will have to reappraise that but I know Forest have for a long time have wanted a long-term stadium solution.
"I'm sure there will be discussion around that, but this opportunity has gone and we are very disappointed."
Political row
Nottingham City Council leader Jon Collins said: "We felt Nottingham put forward a strong bid to England and gave it our best shot.
"It was too big an opportunity to miss so we were right to go for it - we could have been looking at up to £130m of investment into to the area."
Nottingham was included in England's bid despite Nottingham Forest's existing City Ground being too small and having inadequate access.
Plans for the new stadium, backed by the city council and Nottingham Forest, had faced opposition from nearby residents and political wrangles.
The county council withdrew from the bid shortly before it was submitted, arguing the City Ground had not been fully considered and the new stadium scheme included 4,000 homes on greenbelt land.