Graeme Swann's blood sample 'not legal', says solicitor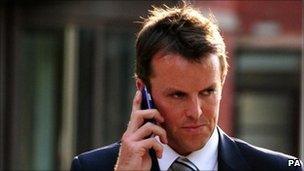 England cricketer Graeme Swann's drink driving trial should not continue because a blood sample was used unlawfully, his solicitor has claimed.
Mr Swann's Porsche Cayenne was stopped by police in Nottingham in April.
During legal submissions at the city's magistrates' court, Phillip Lucas said a second sample should not have been analysed when a first was suitable.
But the district judge ruled there was a case to answer, and the trial will now resume next year.
Mr Swann, who is with the England team contesting the Ashes series in Australia, was pulled over in West Bridgford on 2 April.
At an earlier hearing, police said he told them he decided to drive to a nearby Asda to buy screwdrivers after returning home from a night out to find his cat trapped under the floorboards.
A blood sample later taken from Mr Swann recorded 83mg of alcohol per 100ml of blood - the legal limit being 80mg.
On Tuesday, his solicitor argued for no case to answer because he said that of two samples taken, it was the second that was analysed when the first was suitable for testing.
Mr Lucas said this meant the second sample was unlawful because the first should always be used if suitable.
He also said Swann had consented to giving the first sample of blood but not the second.
After listening to half a day's legal submissions from Mr Lucas and prosecutor Tara Kelly, district judge Julia Newton said: "Having considered everything that's been said it seems to me that there is a case to answer.
"In my view it would be open to a court to find that the second extraction of blood taken from Mr Swann was taken in accordance with statutory regulations and it is also open to the court to find that Mr Swann consented to that sample being taken."
The case was listed for a further two-day hearing at the court and adjourned until 15 February.
Related Internet Links
The BBC is not responsible for the content of external sites.