Rogue traders sentenced over East Midlands £1.5m fraud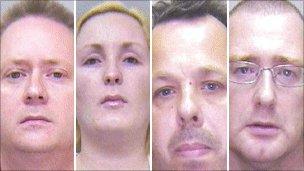 A gang of rogue builders who conned hundreds across the East Midlands with substandard work have been sentenced.
Five men and one woman pleaded guilty to fraud charges at Nottingham Crown Court on 26 November.
Up to 1,600 people, generally elderly, lost a total of at least £1.5m after being offered a bogus survey.
At Birmingham Crown Court Paul Hilton, 40, of Nottingham, and Kevin Christian, 45, of Mansfield, were jailed for two years and 18 months respectively.
Ringleaders Hilton and Christian had both pleaded guilty to conspiracy to commit fraud.
Jane Clark, 29, of Nottingham, Melvyn Hayden, 58, of Derby and Christopher Baird, 27, of Mansfield, all pleaded guilty to fraud charges.
Clark was given an 18 month community order, Hayden was given a six month suspended sentence and Baird was given a four month suspended sentence.
Dominic O'Carroll, 39, of Nottingham, who pleaded guilty to conspiracy to commit fraud, was given a 12 month suspended sentence.
Judge Ibrahim Mooncey told the gang they had used scare tactics.
"You were exploitative and made elderly and vulnerable people fearful for all they held precious," he said.
The trial heard the gang of cold callers, based in Nottingham, specifically targeted elderly victims across the East Midlands, most of them in their 70s and 80s, over a period of five years.
They were conned into paying excessive amounts for sub-standard damp-proofing and repairs they did not need.
One of the victims, Pam Robinson from Glen Parva in Leicestershire, said she was unhappy with the sentences.
"I think they should have been given more because Hilton was the one who came up and knocked on the door.
"I'm disappointed. I feel let down because as far as I'm concerned, they have got away with it."
Related Internet Links
The BBC is not responsible for the content of external sites.