Nottingham girl injured by bus which skidded on ice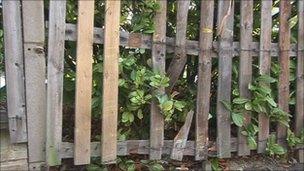 A 14-year-old girl is waiting to have surgery on her hand after being pinned against a fence by a school bus which skidded on ice.
The girl was on Baker Street in Nottingham on Thursday morning when the bus, heading towards Nottingham Girls' High School, lost control.
Staff from the school managed to free the girl, who attends Hollygirt School, from the fence.
A Nottingham City Council spokesperson said the road had since been gritted.
Head teacher Kevin Fear from Nottingham High School for Boys, said all roads around schools should be gritted.
"I think it's disgraceful to be honest," said Mr Fear.
"The gritting of roads around all schools would enable many more schools to stay open.
"I believe the safety of our children should be the number one priority; it's certainly my priority."
Nottingham City Council said that Baker Street was a "non-residential cul-de-sac which is not on our normal gritting route and we have no record of a request to grit the road".
The teenager will undergo surgery on Friday.
Related Internet Links
The BBC is not responsible for the content of external sites.