Activists guilty in Ratcliffe power station 'plot'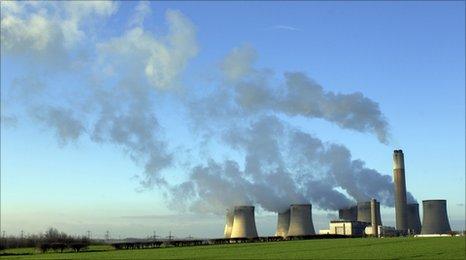 Activists who planned to shut down the UK's second largest power station have been found guilty of conspiring to commit aggravated trespass.
The 20 climate change protesters intended to invade the coal-fired station at Ratcliffe-on-Soar in Nottinghamshire, their trial was told.
They were among more than 100 people arrested during a night-time raid at Iona School in Sneinton in April 2009.
Nottingham Crown Court heard they planned to climb the plant's chimneys.
Police raided Iona School - which is about 10 miles from the power station - shortly after midnight on 13 April, arresting 114 people and seizing equipment including bolt cutters.
At the time, staff said it was unclear how the protesters had gained access, but stressed the privately-run school had "nothing to do with the protesters".
During the trial, the jury was told the protesters aimed to disrupt the power station's supply to the national grid by shutting it down for a week.
Prosecutor Felicity Gerry said they could have used more democratic means, but that it was "more fun" to invade Ratcliffe-on-Soar.
She asked: "Is it really necessary to close down a power station when there are so many other democratic ways in which the message could be put across?
"Or did they do what they wanted to do because it was a great deal more fun, or because they did not have tickets to Glastonbury?"
The defendants called expert witnesses, including a Nasa scientist, to argue their actions were necessary in the fight against climate change.
Defence counsel Edward Rees QC insisted the plan was no "jolly" and said: "This was a serious attempt to stop this particular power station, the second largest in the country, to stop it producing in that week 150,000 tonnes of carbon."
But the jury unanimously found the 14 men and six women guilty.
Supt Adrian Pearson, who led Nottinghamshire Police's investigation, said: "Today's verdict clearly shows that these individuals were determined to commit offences that would result in them not only trespassing on private land, but also damaging property and potentially endangering the lives of others.
"These actions would have had a major impact on people living not only in Nottinghamshire, but across the East Midlands."
One of the defendants, Claire Whitney, said outside court: "Taking action on climate change is not an act of moral righteousness but one of self defence".
The activists will be sentenced on Friday but the judge said he was not considering custodial sentences.
Related Internet Links
The BBC is not responsible for the content of external sites.