Nottinghamshire Police 'expected' £10m shortfall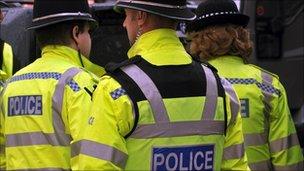 Nottinghamshire Police Authority says the £10m government funding shortfall for 2011/12 is "broadly in line" with its expectations.
Jon Collins, who chairs Nottinghamshire Police Authority, made the comment after the government revealed its provisional details for police funding.
In 2012/13 the funding settlement will be reduced by a further £10m.
Funding for police community support officers has been ring-fenced for the next two years, it was confirmed.
"The announcement has removed much of the earlier uncertainty surrounding the anticipated cuts, enabling us to fully assess the scale and nature of the changes that we will have to make in order to meet the financial challenge ahead," said Mr Collins.
"The shortfall of £10.3m is broadly in line with our original forecast and we have been working closely with the force to identify areas where savings can be made.
"The assurance on funding for PCSOs, which has been ring-fenced for two years, is very positive news as we know how much PCSOs are appreciated by our local communities," he said.
Deputy Chief Constable Chris Eyre added: "We have made no secret of the fact that Nottinghamshire Police will see fewer officers and staff in the coming years and later this week the police authority will meet to discuss our proposals for workforce reductions."
The force is considering a number of options to meet its savings targets, including compulsory retirement for officers who have served 30 years or more.
The budget will be finalised in February.
Related Internet Links
The BBC is not responsible for the content of external sites.