Nottingham supermarket approvals 'among highest in UK'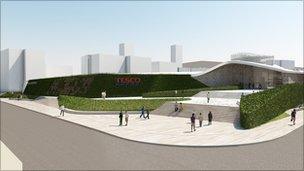 A higher than average number of planning applications by the 'big four' supermarkets was approved in Nottingham recently, the BBC has found.
The city council gave the go-ahead to nine applications in the two years to 1 November - the seventh-highest of all the UK's local authorities.
The figures were obtained by researchers looking at the expansion of Tesco, Asda, Sainsbury's and Morrisons.
They include all types of new outlet, such as small "high street" stores.
Local authorities around the UK were asked how many planning applications had been successful in the past two years, including those for existing buildings which had already been in use as shops.
Glasgow City Council approved the most with 22.
After Leicester, where 12 applications succeeded, Nottingham had the next highest number of approvals in the East Midlands.
Alan Clark, Nottingham City Council's portfolio holder for neighbourhood regeneration, said: "We have strong and vibrant city and district centres in Nottingham, and will continue to consistently apply planning policies to both protect and enhance them.
"Carefully located and appropriately sized new retail provision can have wider employment and regeneration benefits, as well as meeting deficiencies in existing shopping patterns."
Tesco recently submitted plans for a £40m superstore in the Eastside area of the city centre, which have yet to be considered by councillors.
Brian Grundy, one of the directors of nearby Sneinton Market, said supermarket expansion was like a "creeping fungus".
He said: "Putting a new hypermarket there is going to have a major effect on us.
"When a Kwik Save was built in Sneinton 10 years ago it totally wiped out shops in the area, and when it later closed down the shops didn't come back. Those businesses are gone for good."
He said markets such as Sneinton's were a valuable resource for "business incubation", where traders often develop before moving into shops.
The city council has expressed concerns about the project's impact on nearby firms, but Tesco has said it will create up to 500 jobs.
A spokesman for the company said: "It has generally been acknowledged that Nottingham would benefit from a large food store.
"Nottingham Eastside has been widely billed as a development that will bring forward high quality residential and commercial design."
Related Internet Links
The BBC is not responsible for the content of external sites.