Nottinghamshire council orders 5,000 tonnes of grit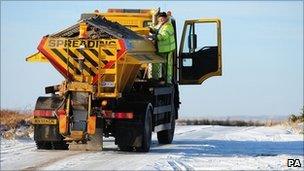 Nottinghamshire County Council has asked for 5,000 tonnes of grit from the government after using more than three quarters of its initial stock.
The authority started the winter with 14,600 tonnes - which it said was more than four times the recommended level - and has used 12,000 tonnes so far.
It is now waiting to hear if it will receive the additional supplies from a newly-released national stockpile.
The council said it was continuing to grit all A and B roads and bus routes.
Councillor Richard Jackson, cabinet member for transport and highways, said: "We're managing to obtain as much each day as we are using up each night.
"Every effort is being made to obtain additional supplies from a number of sources and, if we get it, the 5,000 tonnes from the national stockpile will certainly help. Another 6,000 tonnes of grit have been ordered from Peru and will arrive within the next few weeks.
"However, it is possible the government will introduce a salt rationing system, called Salt Cell, as it did last year, which could mean less salt is delivered to each council than had been ordered.
"In that situation, the council might have to limit the types of road it grits, spread the salt more thinly, grit less often or not grit some parts of the county."
Mr Jackson urged residents to help out by being prepared to clear snow and check on elderly neighbours.
He added: "Many people are already taking the trouble to clear pavements, do the shopping for elderly neighbours or help out in other ways, but we all have a responsibility towards each other and I would like to encourage more people to follow suit."
Related Internet Links
The BBC is not responsible for the content of external sites.