Mother of murdered teenager Brendon Lawrence dies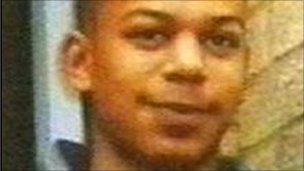 The mother of a murdered Nottingham teenager and campaigner against gun crime has died after a short illness.
Janice Collins' son Brendon Lawrence was shot dead close to his home in St Ann's on 19 February 2002.
Mrs Collins was a leading campaigner for Mothers Against Guns and pushed for mandatory sentences to be given to those caught carrying guns.
Rene Sarpong, 29, of Lamatine Street in St Ann's, was found guilty of 16-year-old Brendon's murder in March 2010.
'Wonderful, wonderful woman'
Mrs Collins, along with other campaigners, eventually saw a change in the law with people caught carrying guns now facing a minimum jail sentence of five years.
At the time she said: "They're not shooting to frighten or scare anybody, they're actually shooting to kill."
Trish Bergan, a fellow campaigner from Nottingham, said: "She was a wonderful, wonderful woman. A pillar with all the hard work she did combating gun crime.
"She didn't want another child to get killed or another mother to go through what she did."
Related Internet Links
The BBC is not responsible for the content of external sites.