Mansfield great-grandmother without heating for a year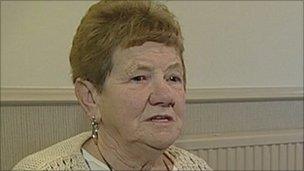 A great grandmother says she is disgusted at her local council after spending a year with broken heating.
Rose Harrison, of Mansfield, is preparing for another Christmas with "luke warm" radiators.
The 72-year-old has been given two fan heaters but says she has to wear up to five layers because of the cold.
Mansfield District Council said it had proved difficult to identify the problem but Ms Harrison's heating should be fixed soon after Christmas.
Ms Harrison said: "I really think it's disgusting. I've contacted them and each time they come out to repair it, they stay for about an hour, then go away and that's it, knowing that they haven't fixed the problem.
"I have to wear loads of baggy cardigans, about five layers."
Her son Ian Fishwick said: "The house is extremely cold. It's very cold. My fear for my mum, like with any old person, is hypothermia. It's a joke isn't it?"
Ms Harrison lives at the end of an estate heated by a communal system, which is not providing enough pressure for her home.
Ajman Ali, corporate director of housing at Mansfield District Council, said: "It's not the fact that we've not done anything. We have, but we've not been able to determine exactly what the problem is.
"We do feel now we've got to the bottom of it and we have got a solution in place, and shortly after Christmas we'll be able to make the fixes to make sure she does get the service she is paying for and deserves."
Related Internet Links
The BBC is not responsible for the content of external sites.