Tesco to open at Nottingham's Tales Of Robin Hood site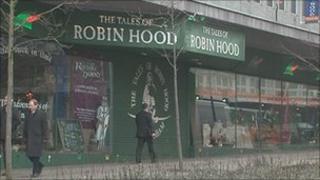 Work has begun to convert part of Nottingham's former Tales of Robin Hood centre into a Tesco Express store.
The building, on Maid Marian Way, had been empty since the tourist attraction closed at the end of 2008.
Tesco, which leases the site, said the building was being split into three units, one of which will be a Tesco Express.
The attraction went into voluntary liquidation in February 2009, with the loss of 50 jobs.
Tesco spokesman Tony Fletcher said the firm had tried hard to find a company willing to continue running a tourist attraction on the site.
In February 2010, Planning Solutions Limited, which runs the Bass museum in Burton upon Trent, looked at reopening the centre with live actors and animatronic figures, but an agreement was never reached.
Folk hero
Mr Fletcher said: "I think it is a shame. It would be nice to see a bit more vitality in that area and hopefully we can bring that."
Tesco is currently in negotiation with two other companies, thought to be food-related, to take over the remaining two units.
At the time, Nottingham City Council said it was unable to take over the running of the attraction, which was the city's only dedicated attraction to the world-famous folk hero.
Instead it created the Sheriff's Commission to find a way of making the most of Robin Hood in the city.
A spokesman for Nottingham City Council said the commission was looking into the possibility of a new Robin Hood attraction at the city's castle.
He said: "The Sheriff's Commission led to a number of developments aimed at maximising Nottingham's Robin Hood offer, including a promotional campaign around last year's Robin Hood film and accompanying exhibition at the Castle, and the launch of a new Robin Hood trail around the city.
"The Commission began a study to look into the possibilities for a new castle-based Robin Hood attraction and this work is ongoing."