Bulwell playgroup has all its toys stolen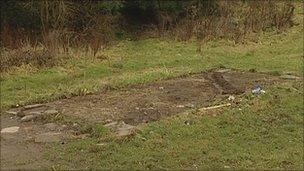 A playgroup in Nottingham has said it is determined to remain open despite the theft of all the children's toys.
The Pulley Park toy library, in Bulwell, is run from a 20ft long (six metre) freight container which was towed away by thieves on Tuesday.
Project manager Steve Parkinson said he believed the container was taken for its scrap metal value, rather than the £2,000 of toys and equipment inside.
It is hoped the playgroup can continue by borrowing toys from another charity.
Mr Parkinson said a passing child raised the alarm after seeing the container being moved by a lorry at about 0930 GMT.
But by the time he arrived at the park, there was no sign of the thieves.
He said: "It's huge - this is why we never actually considered the possibility of the whole thing being stolen. We had lots of padlocks on it but that didn't make any difference because they just took the lot.
"We paid about £1,300 just for the container and getting it here. We filled it with over £2,000 worth of equipment over the years we've being running but apparently the value of the metal itself is probably the reason it was stolen so our toys and equipment will probably be dumped somewhere."
Mr Parkinson said the Nottingham Play Forum charity had offered to loan equipment to help keep the project running.
Nottinghamshire Police has asked anyone with information about the theft to contact officers.
Related Internet Links
The BBC is not responsible for the content of external sites.