Council deputy Graham Chapman 'a very naughty boy'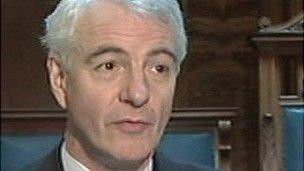 Nottingham City Council's deputy leader - Graham Chapman - has been compared to his Monty Python namesake after failing to publish details of spending online.
In the Commons, Communities Secretary Eric Pickles called Mr Chapman "a very naughty boy" - referring to a scene from the Life of Brian.
He said the authority should follow "every other council" and display all public expenditure over £500.
Mr Chapman called the minister "a dictator who should calm down".
'Government transparency'
Responding to the shadow communities and local government secretary Caroline Flint in the Commons on Wednesday, Mr Pickles said: "The deputy leader of Nottingham Council is a gentleman called Graham Chapman.
"Obviously this is the same name as a late and long-missed member of Monty Python's Flying Circus.
"Now it seems to me that the right honourable lady should get on the phone to this gentleman and tell him, as his namesake's mother did in The Life of Brian, that he might be the deputy leader of Nottingham City Council, but he's a very naughty boy.
"And if it is necessary for me to use the powers that I have to force Nottingham, I will. Why should this process be held back?"
The Communities Secretary has urged all councils to publish the expenditure details as part of a "government revolution in transparency", although they will not be forced to do so by law.
However, government sources have said "measures would be taken" against authorities that do not co-operate.
But the Labour-led city council has argued that the cost of the scheme is too high in the current climate of spending cuts.
Mr Chapman said: "It costs virtually nothing - a couple of thousand pounds - to put it online. It costs another couple of thousand pounds to keep it going online. It's likely to cost about £100,000 to service it.
"We've got a choice at the moment. We're facing £60m of cuts. We are trying not to cut frontline services and he tells us we shouldn't be cutting frontline services even though it's going to be impossible."
The deputy leader also compared the scheme to the cost of dealing with Freedom of Information requests, which he said was about £500,000 a year.
In response to being called a "naughty boy", he said: "I'm very flattered by the boy bit, especially if you're 59."
Related Internet Links
The BBC is not responsible for the content of external sites.