Councillor opposes proposed cuts to community alarms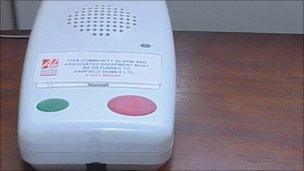 Proposed cuts to an emergency alarm system in Nottinghamshire are an attack on a "vital" service, a district council leader has said.
Nottinghamshire County Council is proposing to cut funding to the service by 55% as part of plans to save £69m from its budget next year.
The Ashfield service handled 1,000 calls last year, Ashfield District council leader John Knight said.
The county council said any people at severe risk would still get alarms.
People who use the service can access help 24 hours a day by pressing a red button.
Councillor Stuart Wallace, of the Conservative-led county council, said all current community alarm and support services across the county will remain in place for the next two years.
"Following that, they will be replaced with more targeted services that meet the particular needs of older people to remain independent," he said.
Retired miner Bill West, who has used the alarm system five times in the past four months, said: "You press the lifeline and they do everything for you.
"If they are on about taking that away they might as well chuck us all out and bury us."
Mr Knight, a Labour councillor, said the service "enables residents to live in a safe environment at home with the peace of mind that help is at hand.
"This is one of the best services our elderly can receive from the county council. These people have all made valid contributions to the system throughout their lives and I believe they have a right to this vital service."
Under the county's proposals, which are still subject to consultation, their new outreach service would provide support each year for to up to 3,500 older people across the county, including those in private homes.
The county council currently gives grants to district councils and housing associations who provide the alarm systems to 11,500 people across the county.
Related Internet Links
The BBC is not responsible for the content of external sites.