Council refuses to demolish derelict city 'eyesore'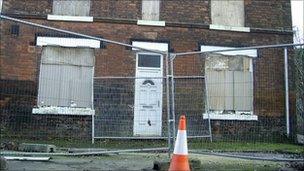 A Nottinghamshire district council has refused to grant a demolition permit for a house that was hit by fire more than a year ago because it does not pose a danger to the area.
Neighbours want the derelict house on Godfrey Street in Netherfield ripped down as it is an "eyesore".
But Gedling Borough Council said it could not be demolished immediately unless it was a risk to the public.
County councillor John Clarke said "red tape" was blocking the demolition.
A Gedling Borough Council spokesman said the property had been inspected by building control staff but had not been classified as a dangerous structure.
He said the property was checked regularly by street wardens for anti-social behaviour and had also been inspected by the environment department.
The Health and Safety Executive has raised concerns about the redevelopment of the site because of possible hazardous substances on the nearby Colwick Industrial Estate.
Netherfield resident Heidi Foster, who lives opposite, said: "It is a bomb site - if anyone lit a match it would go up in flames again. The roof caved in on the night of the fire… it slid on to the ground and across the pavement.
"I close my curtains every day because I don't want to look at it. It is an absolute mess," she said.
Mr Clark said: "It takes months and months, but it needs to be cleared and sorted. The red tape is really frustrating."
Related Internet Links
The BBC is not responsible for the content of external sites.