Cricketer Graeme Swann not guilty of drink-drive charge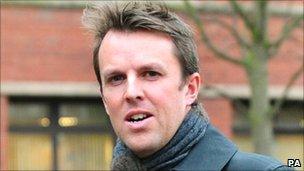 England cricketer Graeme Swann has been found not guilty of drink-driving.
Mr Swann has denied the charge since he was stopped by police on his way to a Nottingham supermarket in April 2010.
Nottingham Magistrates' Court was told he had drunk three or four glasses of wine earlier in the evening to celebrate his birthday.
Mr Swann said he had gone out to buy a screwdriver to free one of his wife's cats which was stuck under floorboards at their West Bridgford home.
District Judge Julia Newton said it had not been proved that a blood sample taken from Swann on the night he was pulled over could be used as evidence.
Mr Swann told the court that on returning to his house on 2 April 2010, he found one of his and wife Sarah's two cats - Max and Paddy - stuck under the floor after builders had been working on their home.
Unable to find a screwdriver to undo the floorboards, Swann decided to drive his Porsche Cayenne to the nearest 24-hour Asda to buy a set of screwdrivers, the court heard.
Two samples of blood were taken from Mr Swann when nurse Lisa Hodgkinson decided the first 2ml sample of blood was not enough and took another 5ml sample.
Dr John Mundy, a forensic alcohol consultant, told Nottingham magistrates the second sample need not have been used when the first was suitable.
The second that was analysed showed Mr Swann's blood had 83mg of alcohol in 100ml of blood, which is over the legal limit of 80mg.
Dr Mundy said technically the first 2ml sample could have been used as 1ml was "ample".
Dr Mundy added that sometimes samples could be contaminated by the rubber bungs used in the vials, which may have happened if the sample was "agitated" by moving it up and down.
In December, Mr Swann's solicitor Phillip Lucas argued there was no case to answer because the second sample was "unlawfully taken", but the judge ruled the trial should continue.
The cricketer was a key member of the England team that won an Ashes series in Australia for the first time in 24 years.
He is in England's Cricket World Cup squad but has not travelled to Bangladesh because his wife is due to give birth.
His trial began in August but has been adjourned several times because of his sporting commitments.
Related Internet Links
The BBC is not responsible for the content of external sites.