Nottinghamshire council vehicles get tracking devices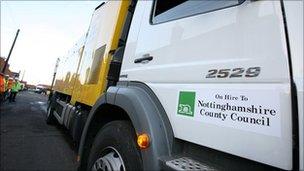 Tracking devices are to be installed across a council's fleet of vehicles to improve fuel efficiency and driving standards.
Nottinghamshire County Council said the system will mean drivers can take the best route and save fuel.
The devices will be put in the authority's fleet of 400 vehicles.
The project will cost £315,000 to install and lease, but the authority said a pilot scheme showed it would save £250,000 a year after three years.
Councillor Richard Jackson, cabinet member for transport and highways, said: "Using this technology across our fleet will make it much more efficient. It's a smarter way of working that will help the authority make significant savings.
"It will also protect our staff by monitoring vulnerable lone workers and by highlighting staff in need of support and training to make their driving techniques safer.
"In 2009 the vehicle location systems were installed in 80 of the council's fleet. This pilot has already demonstrated an annual 9% reduction in mileage, reduced overtime claims and (led to) a 10% saving in fuel costs.
"The pilot has shown beyond any doubt its real benefits both financially and socially."
Related Internet Links
The BBC is not responsible for the content of external sites.