Promise over front-line Nottinghamshire policing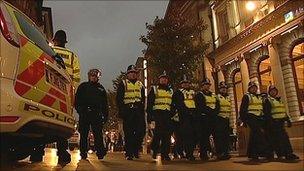 More than £10m of cuts will not affect front-line policing in Nottinghamshire, officials have claimed.
The police authority has approved the £10.3m reduction in the force's £200m budget as a first step towards saving more than £42m a year by 2015.
This will result in about 220 officers and 400 support staff leaving by 2012.
But the authority insisted the public would notice little impact due to efficiency programmes.
The budget also included a freeze in the police's part of the council tax.
The cut in police numbers to about 2,100 includes more than 100 officers with 30 years' service who have been made to retire.
Officials said front-line policing would be protected, as most of the officers would come from backroom duties, such as reducing the administrative divisions from four to two.
Jon Collins, chairman of Nottinghamshire Police Authority, denied this would mean beat officers being given more paperwork.
"Hopefully they will be doing less paperwork because what we are trying to do is invest in a variety of mobile technology which will keep officers out on the beat.
"We will also be looking at the number of bases that officers operate out of which is necessary to keep more officers out there."
He added that the following year's budget savings, totalling about £13m, were a "major challenge".
Related Internet Links
The BBC is not responsible for the content of external sites.