Workers strike over £87m council cut in Nottinghamshire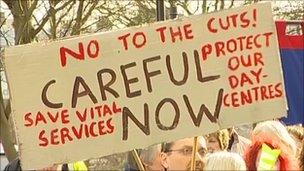 Hundreds of Nottinghamshire County Council workers have walked out on strike to protest against proposed cuts of £87m to the council's annual budget.
The one-day strike by Unison workers comes on the day the local authority meets to discuss the budget cuts.
Conservative council leader Kay Cutts said tough choices were necessary, but said the vulnerable would be protected.
The leader of the Labour group, Councillor Alan Rhodes, said his party would have avoided "drastic" cuts.
Mrs Cutts said: "We are going to lose more than 1,000 jobs (this year) - and that will be done by natural churn, by vacancies, by people asking for voluntary redundancy.
"I am really hoping that by redeployment we are going to have very few compulsory redundancies - I don't want to see people lose their jobs but we do have a council to manage."
She said the council was working to protect older people, vulnerable children and the disabled by "spending the money that we have from government on people who need it most".
Mr Rhodes said: "We certainly would not be… cutting back on vital services that are impacting in a very negative way on some of the most vulnerable people who live in Nottinghamshire.
"This is part of the Tory philosophy to shrink the welfare state and to shrink the public sector with it."
He said the Labour group supported the campaign against the cuts - adding that the strike highlighted concerns about the effects of the cuts on service users in the county.
The council said it had been forced into making tough choices by a large drop in money from central government.
Related Internet Links
The BBC is not responsible for the content of external sites.