Scheme to help hate crime victims in Nottinghamshire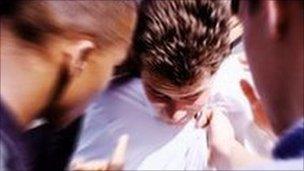 A new service to help victims of hate crime in part of Nottinghamshire has been launched.
Broxtowe Borough Council and the Council for Equality and Human Rights set up the scheme following an increase in reported hate crime in the borough.
Weekly drop-in sessions will be offered for residents to report hate crime and for victims to get specialist advice and support.
Volunteers who have themselves been victims will offer advice.
Colin Nembhard, from the Council for Equality and Human Rights Nottingham and Nottinghamshire, said: "It is vital that people report these incidents and come forward for support and guidance through what can be a stressful and intimidating experience.
"Hate crimes may include any type of abuse - from a verbal or physical attack to graffiti, damage to property, offensive literature or even arson.
"Anyone can be a victim of hate crime and you do not have to be a member of a minority group or someone who is generally considered vulnerable."
The first session will be held at the Eastwood Volunteer Bureau on 2 March.
Related Internet Links
The BBC is not responsible for the content of external sites.