Businesses put more pressure on A453 widening plan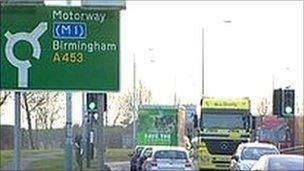 Business leaders have said more pressure should be put on the government to reverse a decision to delay widening a major trunk road.
After the government's spending review it was announced work on the A453 would not start until at least 2015.
Improvements to the route, between Junction 24 of the M1 in Leicestershire and Nottingham, have been under discussion since the early 1980s.
It is claimed the East Midlands economy could be boosted by widening the road.
The Derbyshire and Nottinghamshire Chamber of Commerce said making the road a dual carriageway would benefit the region's economy by more than £320m.
Chamber of Commerce chief executive, George Cowcher, said: "We'll be working very closely with local authorities, local MPs, companies and many others who are campaigning very hard to make sure that the evidence that we've put together as a chamber of commerce to say this is the highest infrastructure priority for the whole of the East Midlands, is communicated very loudly and very clearly to London."
The A453 project was one of several major transport projects which were dropped from the government's priority list following last October's spending review.
The estimated cost of the project has been put between £141m and £194m.
According to the Highways Agency the 11-mile stretch carries about 32,000 vehicles a day.
Related Internet Links
The BBC is not responsible for the content of external sites.