Three men jailed over Mansfield Woodhouse assault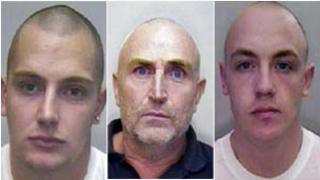 Three men have been jailed for their parts in what Nottinghamshire Police described as a horrendous assault.
They battered an unnamed 24-year-old man after breaking into his house in Mansfield Woodhouse on 1 May 2010.
Adam Groves, 23, of Park Avenue, Mansfield Woodhouse, was given an indeterminate prison sentence.
Martin Groves, 50, of Leas Road, Mansfield Woodhouse was jailed for nine years. Ashley Groves, 25, of Forest Road, Clipstone, will serve two years.
Adam Groves and Martin Groves pleaded guilty to causing grievous bodily harm, prior to the sentencing at Nottingham Crown Court on Tuesday.
Ashley Groves admitted actual bodily harm in connection with an assault at a bar on 30 April in Mansfield town centre and admitted affray on 1 May.
'Left to die'
The men forced their way into the victim's house and assaulted him with a number of weapons before fleeing.
The victim suffered life-threatening head injuries, including a fractured skull and he could be left with long-term side effects following the attack.
Speaking after the sentencing, Det Insp Caroline Racher from Nottinghamshire Police, said: "A man suffered life-threatening head injuries and was left to die after being attacked in his own home.
"This was an horrendous and cowardly assault and is one of the worst I have come across throughout my career with the police.
"The victim and his family have been incredibly brave throughput this ordeal and I am glad for them and the public that these men are behind bars, where they won't be able to harm anyone else."
Adam Groves must serve a minimum of five years and will only be released once a parole board is satisfied he does not pose a risk to the public.
A fourth man, Dwane Chapman, 24, of Park Avenue, Mansfield Woodhouse, has also admitted causing grievous bodily harm and actual bodily harm and will be sentenced at Nottingham Crown Court on 25 March.