Nine arrests over alleged marriage scam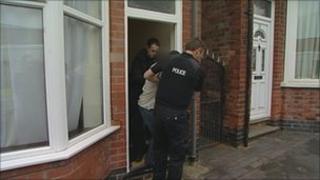 Nine people have been arrested in a crackdown on alleged sham marriages, which centred on an investigation in Nottingham.
Four men and two women were arrested in the city after several addresses were searched by the UK Border Agency.
A woman was also arrested in Ramsgate, Kent, while a man was held in London and another in Rotterdam, Holland.
One of the men, arrested at the University of Nottingham, is suspected of organising the plot.
Properties in Devon and Birmingham were also searched.
'Green Card'
A UK Border Agency official said the investigation began when several Nigerian people applied to settle in the UK, after having Church of England marriages to Dutch nationals.
Suspicion was raised as all those involved were from the Caribbean, with Dutch nationality and therefore entitled to live in the UK.
Sam Bullimore, from the UK Border Agency, said he had overseen hundreds of convictions linked to sham marriages last year.
"Sham marriages aren't just like you see in the film Green Card," said Mr Bullimore.
"It's not one person doing someone else a favour, we see serious amounts of money changing hands. Organised crime groups charging £10-15,000 per sham marriage is common."
A UK Border Agency spokesman added the arrests on Wednesday were the first in a sham marriage operation where there had been simultaneous arrests abroad.