Actress Andrea Lowe on Ken Loach's Route Irish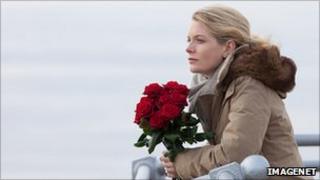 An actress from Nottingham has been speaking about her first major film role.
Andrea Lowe, who has starred in Coronation Street and The Tudors, plays Rachel in Ken Loach's new film, Route Irish.
Ms Lowe said Ken Loach, who directed Kes and Looking For Eric, was someone she always wanted to work with.
She added that the filmmaker also works in an unusual way.
"With [Ken Loach] you don't get a script," said Ms Lowe.
"When we go and meet him we have to improvise scenes, which would allow him to know whether we're suitable to play the characters without giving the plot away."
'Amazing guy'
Ms Lowe added that this approach allows her to react to situations in the film with more immediacy.
Route Irish is set in Liverpool but focuses on events during the war in Iraq.
The title refers to the Baghdad Airport Road which was a stretch of highway linking the International Zone to the airport.
In the film, Ms Lowe's character Rachel tries to discover what happened to her partner, who was working as a private security contractor in the Iraqi capital, Baghdad.
She said despite the heavy themes of Ken Loach's film, the director kept the atmosphere light on the set.
"[Ken Loach] is an amazing guy," said Ms Lowe.
"He's so political and the issues he tackles in his films are so interesting but actually he's really generous and warm."
Route Irish is on general release from Friday 18 March.