First work on Mansfield bus station begins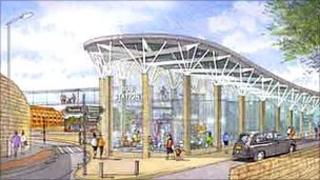 Preliminary work on an £11.6m bus station for a Nottinghamshire town has begun.
Plans for the Mansfield bus station were given the go-ahead in February when the government confirmed it would contribute £7.2m to the scheme.
Work on retaining walls and sections of pavements has begun with actual construction of the buildings to start later this year, due to open in 2013.
The new bus station will be built at the Station Road car park.
The rest of the funding for the project will be covered by Nottinghamshire County Council, Mansfield District Council and £125,000 from East Midlands Development Agency.
'Major development'
The scheme involves moving the bus station from its current site on Rosemary Street to near the railway station.
Councillor Richard Jackson, county council cabinet member for transport and highways, said: "The relocation of the bus station is the key to unlocking major development plans for Mansfield town centre when the site of the current bus station becomes free.
"This will, potentially, bring in investment of up to £60m and create 950 jobs."
The project survived a government review of transport projects in October 2010 which led to other schemes, like the A453 widening and A38 Derby junction, being delayed or deferred.