Film crew follows Nottingham band The Soundcarriers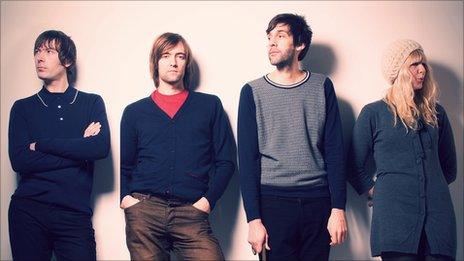 A Nottingham band is being followed by Inside Out East Midlands for the next six months as they record their third album.
The Soundcarriers said they hoped the resulting documentary would give an insight into the music making process.
The band have gone from making lo-fi bedroom recordings five years ago to supporting The Go! Team on tour and playing a live session on BBC 6 Music.
Adam, Pish, Dorian and Leonore plan to release their third album in December.
The Soundcarriers' sound is influenced by psychedelic music like CAN and early Pink Floyd but also more obscure music including soundtracks, rare groove, easy listening, acid folk and jazz.
The band was originally formed in 2006 to turn founder members Adam and Pish's jams into live sessions.
"It has taken to a few years to get it right but we feel like we're on the right course now," said Adam.
"We try not to recreate what we've produced in the studios," Pish added.
"It's a different kind of thing. There's improvised bits between the music. It's often a bit more raw. It's got a lot of energy to it as well."
The 2011 UK tour with The Go! Team brought The Soundcarriers' music to a bigger audience.
Adam said he believed they worked well together.
"A lot of their music is soundtrack influenced and we've got a bit of that cinematic feel in our music.
"There's a thread that runs between us - we just don't have the rapping."
In the future Adam and Pish said they would eventually like to create a live sound with a bigger band.
"We would love to play more ensemble pieces but it is not really practical to do that all the time," said Adam.
The BBC Inside Out East Midlands film crew will follow the band's exploits as they write material, work in the studio and play live. The resultant film will be broadcast on BBC One in December 2011.