Pickles threatens Nottingham council with court action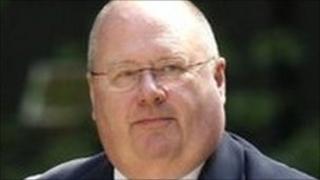 Nottingham City Council has been threatened with legal action over its refusal to disclose all items of spending over £500.
Councils in England were urged to reveal details of expenditure above £500 as part of a government "revolution" in transparency.
Communities Secretary Eric Pickles claimed Nottingham was now the only council refusing to publish.
But the Labour-led authority argued the cost of the scheme was too high.
Nottingham City Council's deputy leader, Graham Chapman, claimed the cost of publishing the details would amount to about £100,000.
Mr Pickles said the city council should follow "every other council" and display all public expenditure over £500.
"I will be forcing Nottingham to do this", said Mr Pickles.
"It seems to me to be ridiculous that I have to use my powers under the 1980 [Local Government, Planning and Land] Act just to force Nottingham to do so.
"They've placed themselves into a ridiculous corner and people will presumably ask what has Nottingham got to hide that other councils are proud to produce."