Woman prepares for 151-mile Marathon Des Sables race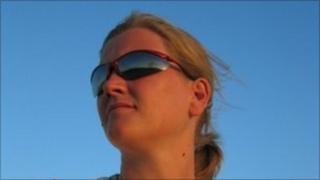 A woman from Nottingham is taking part in what has been called the 'toughest footrace on Earth'.
The Marathon Des Sables is a six-day, 151-mile (243km) endurance race across the Sahara desert in Morocco.
Louise Brockman, 33, will face temperatures of 35°C and has to carry her own clothes, medical kit and sleeping bag.
She said the race would be a personal challenge: "It's certainly going to push me to my absolute maximum."
The Marathon Des Sables starts on Sunday.
"It's going to be hot, sandy, it'll get everywhere.
"My feet are going to get mashed up with various blisters, which isn't going to be very nice, but it's part of it.
"I've gone through my moments of 'oh my God what am I doing?'."
The fourth day has a gruelling distance of nearly 50 miles (80km).
Water is rationed for competitors and the terrain consists of rocky ground and sand dunes.