Plaque marks Watson Fothergill's Black Boy Hotel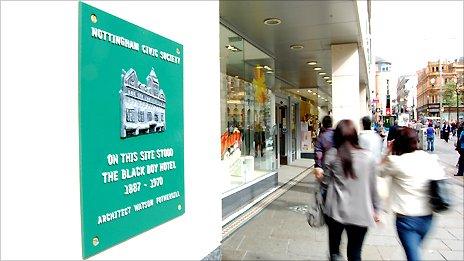 Former Nottingham landmark the Black Boy Hotel has been commemorated with a plaque.
The iconic structure on Long Row was designed by architect Watson Fothergill in 1887 but controversially demolished in 1970 during city redevelopment.
It is the first building - as opposed to a person - to be given a plaque paid for by Nottingham's Civic Society.
The society plans to produce a series of plaques to remember the city's famous people and historic places.
Chairman Hilary Sylvester said: "We want to encourage a feeling of pride in Nottingham and make it interesting for visitors."
In March the Civic Society unveiled a plaque at the birthplace of Saturday Night and Sunday Morning author Alan Sillitoe, on Manton Crescent in Lenton Abbey.
It is looking at putting up plaques to mark chemist Jesse Boot's first shop on Goosegate, and Drury Hill - the historical narrow, steep entrance in to Nottingham which was demolished to make way for the Broadmarsh shopping centre.
The society also plans to remember the homes of artist Laura Knight and writer Graham Greene, and said it would welcome other suggestions from members of the public.
Ms Sylvester said the Black Boy had been chosen because 40 years after being razed to the ground it was still very well remembered by many people in Nottingham.
She said: "It was very distinctive and eccentric, a building that people still talk about and therefore appropriate to be our first plaque."
Ken Brand, a Watson Fothergill expert, said it was a travesty the Black Boy was no longer standing.
"Its demolition was considered by most to be the worst example of architectural vandalism of that era in Nottingham," he said.
Related Internet Links
The BBC is not responsible for the content of external sites.