University of Nottingham sets £9,000 tuition fees level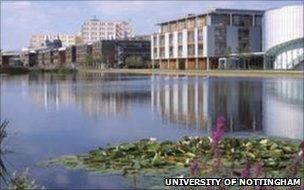 The University of Nottingham has announced it intends to charge the maximum £9,000 a year in tuition fees.
Professor David Greenaway, the university's vice-chancellor, said financial packages would be available to ensure the best students applied.
The university is facing a £12m cut in government funding for 2011/12, on top of a £4m for 2010/11.
The Office for Fair Access (Offa) must now confirm universities' fees and access programmes, expected in July.
Prof Greenaway said: "We are currently investing £90m in teaching and learning, to ensure that our students continue to enjoy the very best facilities during their studies at the University of Nottingham.
"For our students, a degree from the University of Nottingham represents an investment in their future.
"This is reflected in the fact that when they graduate, they are among the most sought-after in the country."
The university will offer students from lower-income families support in the form of bursaries and, for some, fees could be waived.
A spokesperson added: "Our broad and progressive package of financial aid will include direct support for students with their living costs and additional provision will be targeted towards foundation year students, local students with disabilities, those who are carers and students formerly in care."
Nearby Loughborough and Leicester Universities set their fees at the same level last week, while Derby University said it planned to charge fees between £6,995 and £7,995.
Related Internet Links
The BBC is not responsible for the content of external sites.