Liam Bailey plans UK tour after debut album release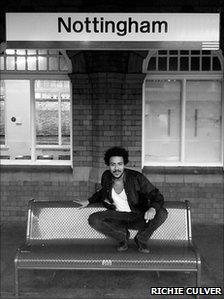 "It's not confirmed yet, but I'm signed to Polydor records, with a wicked band behind me - it's coming," said Nottingham's Liam Bailey when asked about his first solo UK tour.
The soul and blues artist has had a whirlwind six months.
"A lot of gigs, magazines, photoshoots - they're weird. You keep thinking about your mates back home looking at you while you're posing."
Liam has been compared to Sam Cooke in The Sunday Times, Bob Marley in Mojo, and described as a male Amy Winehouse in Q Magazine.
He has appeared in the UK chart top ten as a guest vocalist with Chase & Status, featured in several ones to watch lists for 2011 and received national airplay for his first solo single.
Despite the hype the singer songwriter said he was determined to stay grounded.
"I'm keeping my knickers on. The songs are good, I know that. It depends whether people want to listen to my music."
The Nottingham artist was first encouraged to perform live by a former school teacher.
"Colin Hall, he encouraged me to go down to The Fishpond at Matlock Bath where he played the acoustic night. It was a really good crowd. They wanted it."
He is passionate about Nottingham and was heard "biggin' it up on national radio" with Zane Lowe.
Liam said the city music scene was fundamental in his career and regularly travels back to the city to see friends and family.
"Without the base I had in Nottingham, mates getting together and jamming, who knows where I'd be," he said.
However he added that he had to travel to get noticed: "London is a great place to be seen."
Liam was guest vocalist on 'Blind Faith' single by the drum and bass duo Chase & Status which reached number five in the UK charts in January.
The singer released his debut single 'You'd Better Leave Me' on 13 March and was Radio 1's Zane Lowe's Hottest Record in the World.
His second single 'Heartbeats' is out on 24 April.
The artist's self-penned debut album, produced by Salaam Remi (Nas, Fugees, Amy Winehouse), will be released on 14 June.
Related Internet Links
The BBC is not responsible for the content of external sites.