Murder convictions appeal over 'prison guard juror'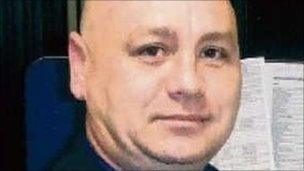 The murder convictions of two Nottingham men could be unsafe because one of the jurors was a prison officer, the Criminal Appeal Court has heard.
Polish nationals Krzysztof Zejmowicz and Tomasz Ruskinski were jailed for life in December 2008 for the brutal killing of Leszek Milon in Hyson Green.
Their lawyers said the officer, based at the jail where they were on remand, might have been "prejudiced by gossip".
Judges reserved their ruling on the appeal until a later date.
Mr Milon was found dead at the home he shared with Zejmowicz, 42, and another man on 19 January 2008.
The 39-year-old had been subjected to humiliating assaults and "serious violence" and the issue at trial was who had caused his fatal injuries.
Both defendants were found guilty of murder at Nottingham Crown Court, with Zejmowicz being ordered to serve at least 17 years and Ruskinski a minimum of 14 years.
At the Criminal Appeal Court, the men's lawyers expressed their concern at a "number of failings" which led to the prison officer serving on the jury.
Mark Evans QC, acting for 40-year-old Ruskinski, said the case against his client was "weak" and there was a chance the juror who worked at the jail had been influenced by the "unofficial mythology being passed around the prison".
The case was investigated by the Criminal Cases Review Commission (CCRC) - the independent body that looks at suspected miscarriages of justice - after the juror's occupation was discovered following the trial.
Timothy Spencer QC, for the Crown, urged the judges to uphold both men's convictions, saying Mr Milon was subjected to a "campaign of humiliation and violence" and neither man did anything to stop it.
Lord Justice Richards, Mr Justice Roderick Evans and Judge Nicholas Cooke QC reserved their ruling on the case until a later date.
Related Internet Links
The BBC is not responsible for the content of external sites.