Appeal to look out for amphibians in Nottinghamshire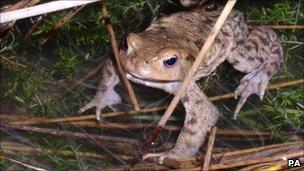 People in Nottinghamshire are being asked to look out for amphibians.
The Amphibians in the City project is aiming to build a record of toads, frogs and newts within Nottingham.
Once sightings have been recorded, a map will be produced to see the spread of amphibian activity.
The project follows on from Raptor Watch which aimed to plot numbers of buzzards, ospreys and peregrine falcons.
Wildlife in the City project officer Lucy Wallington said: "Many people may not believe they have frogs or toads in their gardens because they live in such an urban area - but this couldn't be further from the truth."
Nottinghamshire Wildlife Trust is interested in any sighting and online forms can be completed on its website.
Related Internet Links
The BBC is not responsible for the content of external sites.