Ex-navy warship HMS Nottingham to be sold for scrap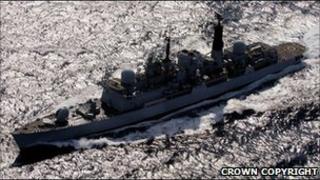 Former Royal Navy warship HMS Nottingham is likely to be sold for scrap, the Ministry of Defence (MoD) has confirmed.
The Type-42 destroyer was put up for auction alongside two other ships - HMS Exeter and HMS Southampton.
The MoD confirmed it had received bids to recycle the destroyers and that they were being considered.
The successful buyer would have to break up the ships and re-use the component metal elsewhere.
HMS Nottingham was officially decommissioned in 2010 after serving the navy for 30 years.
The Royal Navy is in the process of replacing the ageing Type-42 class with the Type-45 Daring.
HMS Invincible, which saw action during the Falklands War, has already been sold under similar terms.
Ark Royal, the navy's former flagship, is also being sold by the MoD, but the auction does not close until mid-June.