Bishops offer free shoe shining service in Nottingham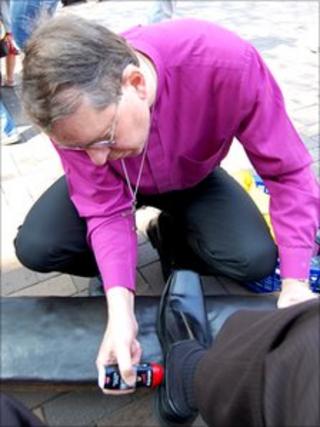 Two Church of England bishops have been offering a free shoe shining service in Nottingham city centre.
The Bishop of Sherwood, the Right Reverend Tony Porter, was joined by the Bishop of Southwell and Nottingham, the Right Reverend Paul Butler.
The pair buffed passing shoppers' footwear outside St Peter's Church to mark Maundy Thursday.
Bishop Butler said the service was being offered as a modern twist on foot washing.
Maundy Thursday is when the Church remembers the Bible's description of Jesus washing the feet of his disciples, shortly before his crucifixion.
"Foot washing in Jesus' day was done by the lowest servant of all," said Bishop Butler.
"Jesus challenged his disciples then, and all of us today, to treat each other with such love and respect.
"We wanted to explain this and the message of Easter while we offered a practical service to people in the city."
Details of forthcoming Easter services were also given out.