Flood work for Nottingham Victoria Embankment bandstand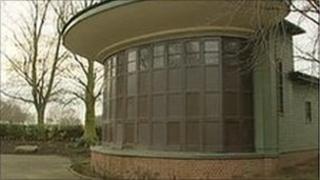 Plans for flood defences to be built around a listed building in Nottingham have been approved by the city council, despite local opposition.
The work, which is part of a £51m flood protection scheme, will mean that the seating area and path are raised around the bandstand at Victoria Embankment.
It is part of a wider scheme to protect 16,000 homes and businesses along the left bank of the River Trent.
More than 500 people signed a petition opposing the plans.
The Grade II-listed bandstand, which was originally under threat of demolition until local resident Jonathan Hughes organised a petition, was donated to the people of Nottingham by the entrepreneur Jessie Boot.
The proposed work was approved by Nottingham City Council's planning committee on Wednesday.