Man critically injured in attack in Nottingham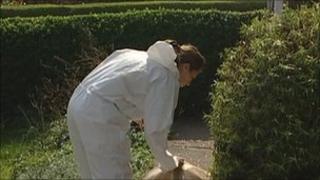 A man has been taken to hospital with life-threatening injuries after being attacked in Nottingham.
Police officers were called by ambulance personnel to Sturgeon Avenue in Clifton at about 2215 BST on Thursday.
Two women aged 23 and 24 and a man aged 38 were arrested and later bailed.
Further investigations were being carried out by forensic experts at the scene. Police have appealed for any witnesses to come forward.
'Very scary'
Sam Booth, who lives next door, said: "I opened the back door and heard a woman screaming, so I shut the back door and called the police.
"Just as I opened the door there was a gentleman walking past my back door, holding a hammer, and he was bleeding from his head.
"I shouted, 'what are you doing?' He said 'can you open the gate please?' very calmly. It was quite surreal actually."
Another neighbour Alec Booth said: "I came round, unlocked the gate and got him on to the lawn. We applied first aid until the police and paramedics turned up."
Ms Booth added: "He was slipping in and out of consciousness, I couldn't get him to answer me and then he did slip into unconsciousness. It was just very, very strange and very, very scary."
Two young children were in the house were unharmed and are now being cared for by a family member.
Police said two women also needed hospital treatment for a head and wrist injury but had since been released.