Food-fear boy Daniel Harrison to have treatment abroad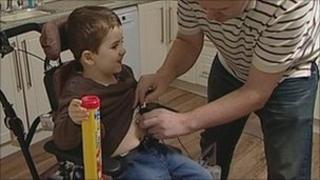 The family of an autistic boy from Nottinghamshire who has not eaten food for almost four years have managed to raise money for treatment abroad.
Daniel Harrison, who is four-and-a-half, has refused to eat or drink for most of his life and so is fed through a tube in his stomach.
His parents have now raised £25,000 to send him to a specialist clinic in Austria for treatment.
Daniel's father Kevin Harrison said the public support had been overwhelming.
Feel hungry
He said: "We raised £25,000 in 86 days - that's from the people of Nottingham, East Midlands, [it is]absolutely unbelievable, we've had companies helping us, all sorts of things."
Daniel's refusal to eat or drink came after he suffered from acid reflux as a baby and now has a fear of consuming food.
The pioneering treatment in Graz, Austria, will involve reducing the amount he is fed through the tube so he can feel hungry.
His father explained: "What we have to do is remove part of his feed to try and create thirst and hunger in him.
"And there'll be lots of different processes to try and get him to understand what food is and not to be afraid of food."