Metal thieves demolish church tower in Top Valley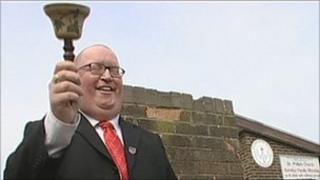 Metal thieves have demolished a Nottingham church's bell tower and stolen the bell.
Handbells were used instead to mark Easter at St Philip's in Top Valley.
It is believed the bronze bell was stolen for its scrap value, estimated at around £100. Having a new one cast will cost between £3,000 and £5,000.
The missing bell had been behind metal bars in an 8ft (2.4m) tower. The Reverend Andy Morris said the theft was discovered on Good Friday.
He said: "People don't seem to have the respect that they used to have for places of worship," he said. "And it's not only churches, it's mosques and other places that get attacked at the same time."