Candle-lit vigil to remember Chernobyl nuclear disaster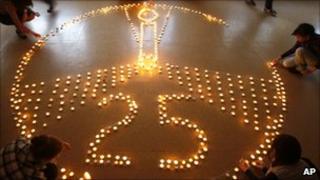 A candle-lit vigil will be held in Nottingham to remember the Chernobyl nuclear disaster 25 years on.
On 26 April 1986 two explosions at one of the reactors at the Chernobyl Nuclear Power Station, in northern Ukraine, spread a cloud of radioactivity across Europe.
Belarus was one of the countries worst affected. Nottingham is twinned with its capital, Minsk.
The vigil will be held in the Old Market Square from 2000 BST on Tuesday.
David Winson, is one of the organisers, and the chairman of the Nottingham branch of the charity Chernobyl Children's Lifeline.
He said events at the Fukushima nuclear plant, in Japan, has brought Chernobyl back into the forefront of people's minds.
"Many people had forgotten it," said Mr Winson.
"Many young people had never even heard of it, so Japan has brought it back into the limelight."
The candles will form a radiation symbol, and the number 25.