Undercover police officer 'torn apart' by role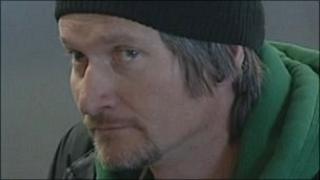 A former undercover police officer who worked with environmental activists said he was "torn apart" by the role.
Mark Kennedy, who was with the Metropolitan force, spent seven years as part of a Nottingham-based group which took part in protests.
A case against six people accused of planning to disrupt Ratcliffe-on-Soar power station collapsed when Mr Kennedy's role was revealed.
He denied he "went rogue" - but admitted questioning his role.
More than 100 activists were arrested when police raided school buildings in Sneinton, Nottingham, in April 2009.
Earlier this year 20 people were given community orders after being found guilty of conspiracy to commit aggravated trespass in planning to shut down Ratcliffe-on-Soar.
'Extremely rare position'
The police operation and subsequent court case cost about £700,000.
Speaking on BBC Radio Nottingham, Mr Kennedy said: "I'm still working out who I am now and who I was then.
"I always understood my role as an undercover police officer - but there has been a lot of things said about me, that I went native and went rogue, but that is not the case at all.
"I think I was in a position that is extremely rare, that I was on the fence and saw both sides.
"I was understanding of the issues which people wanted to protest about but I also understood my role as an undercover police officer - although I might have questioned that at times."
He added: "I was torn apart by it - I spend seven years with a close-knit group of people, many of who became friends."
Mr Kennedy denied planning any protests but said he took part in "minor" criminal activities, which he emphasised were approved by senior officers.
"The people I was infiltrating were not criminals in the sense of what most people would understand a criminal operation to be.
"These are people that are trying to bring about change because of their conscience and what they believe in."
He said he left the force after becoming disillusioned but an internal police inquiry meant he could not comment further.
Mr Kennedy also admitted talking to the protesters' defence team, and apologising for his actions, but denied offering to give evidence on their behalf.
Those convicted in connection with the Ratcliffe-on-Soar protest have been advised to appeal by the Director of Public Prosecutions Kier Starmer QC.