Domesday Reloaded a 'real opportunity' to capture life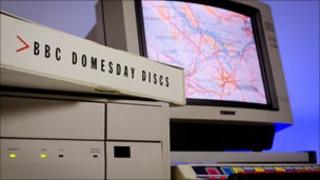 "This is our opportunity to capture life today, for the future," said archivist Chris Weir.
"If we don't catalogue the world as we see it today our view of it will be lost and the world will be presented by other people who have a particular interest."
The expert from Nottinghamshire Archives took part in the original BBC Domesday, an ambitious project to record a snapshot of everyday life in Britain in 1986.
Domesday Reloaded is the sequel to the original project and, for the first time, the project is being made available online.
'Pioneering'
In the mid-1980s a million volunteers took part, including many schools and local groups in Nottinghamshire.
The BBC divided an Ordnance Survey map of the UK into 3km by 4km rectangles, called D-blocks.
These areas were allocated to Women's Institute groups, scout troops, enthusiastic individuals and schools.
The idea was to record life in 1986 for an electronic archive and bring history into the digital age.
The BBC contacted the Nottinghamshire archivist who was working with a school in Newark at the time.
"Computers had just come in in the 1980s. It was all very new. I thought 'this is absolutely wonderful, what a great opportunity'."
The Newark school children recorded their thoughts about their home town. Some of them described Newark in 1986 while others listed what was in their house and bedroom.
Groundbreaking 'failure'
Domesday 1986 was a groundbreaking project and hugely successful at gathering information.
But in one important aspect it was a failure: the data was preserved on then state-of-the-art laser discs and was never accessible to the public.
Now that is going to be put right as the BBC finally publishes all of the 1986 Domesday community data online.
It is a record of life a quarter of a century ago - and we did it all without the help of email and the internet, so the potential to gather information in 2011 is enormous.
The BBC wants the public to explore the photos and articles from 1986 on the Domesday Reloaded website to find out how life in Britain has changed today and, if possible, update what was submitted in 1986.
Urging the people of Nottinghamshire to get involved, archivist Chris Weir said: "Sometimes we don't think about the future, we live day to day.
"But when we get older we think 'I wish I'd kept those photographs. I wish I had spoken to my grandma and grandpa about what it was like during the war'.
"Let's not say it is too late. Let's say we're going to do it."
All the information gathered will be preserved for future generations at The National Archives in Kew.