Council advised to reject Tesco £40m Nottingham store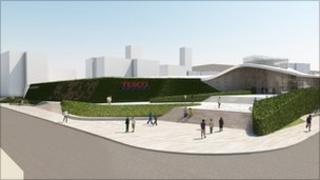 Proposals for a £40m Tesco store on the edge of Nottingham city centre should be refused planning approval, planners at the city council have said.
Tesco submitted plans for a store to be built to the east of the city centre in the Eastside Regeneration Zone known as the Island Site.
A report recommends the bid be rejected as the design and size of the store are inconsistent with plans for the site.
Tesco said the project would create up to 500 jobs.
Nottingham City Council had voiced its concerns that the proposed 90,000 sq ft store could threaten traders in the city centre and in Sneinton.
The plans include a multi-storey car park, cafe, offices and a community centre.
The council's vision for the Island Site was to see a mix of office, residential and retail development evenly spread throughout the area.
A city council spokesman said: "The Tesco application would result in a single, solid block being developed to the north of the site and would place all of the retail in one location, which is one of the reasons why the application is recommended for refusal."
The authority's development control committee will discuss the application at a meeting on 25 May.