Stabbing victim upset by offer to 'meet offenders'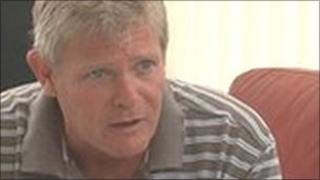 A Nottinghamshire barber who was stabbed by robbers says he was upset by an offer to meet violent offenders.
Gary Thrall, 49, of Kirkby-in-Ashfield, was attacked at his Nottingham barber shop in June 2010 and has not been able to return to work.
He said the Victim Support offer to meet "random" offenders - not the ones who attacked him - was "the last thing you want".
Victim Support said it had given Mr Thrall "a good level of support".
Mr Thrall said: "After just being stabbed by someone who was going to take your livelihood and your life - I think that is the last thing you want to be hearing."
Victim Support regional manager Joe Brazil said: "I don't think the service to Gary was lacking. He has had a good level of service from Victim Support.
"We were in touch from day one and we provided him with a volunteer and gave him trauma counselling.
"We don't normally disclose any details of the confidential help we give to victims of crime except in situations like this when we need to reassure people that we can and will help them should they become a victim."
He said they offered him counselling and help with a compensation claim.
Police have not arrested anyone in connection with the case.
Mr Thrall's wife Deanna said: "They have let him down. I have had to write to various agencies - and it feels like every single thing we have needed we have had to fight for."
Ashfield MP Gloria De Piero said: "They felt that since that knife attack they have been let down every step of the way."
Mr Thrall suffered deep wounds to his arm and shoulder and needed surgery, including 84 stitches, to repair muscle and nerve damage.