Inquest family calls for restraint methods inquiry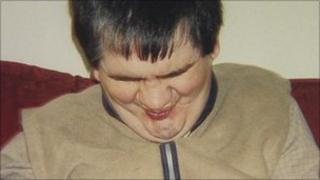 The family of a mental health patient who died in a Nottinghamshire hospital has called for an inquiry into restraint methods.
Derek Lovegrove, 38, died at Cedar Vale, an 18-bed hospital in East Bridgford, in July 2006.
The inquest at Nottingham Council House heard Mr Lovegrove stopped breathing after being restrained but a post-mortem was inconclusive.
The jury returned an open verdict but relatives said research was needed.
The inquest was told Mr Lovegrove, who was blind and partially deaf, was a volatile patient with communication problems, often grabbing staff and tearing off clothes.
Different methods
On the day of his death he pulled a worker to the ground.
Another member of staff helped hold Mr Lovegrove down but he stopped breathing shortly afterwards.
A pathologist said he could not rule out that restraint had contributed to the death.
Speaking through their solicitor, the family said there were lots of different restraint methods used in care settings and there needed to be more research into them.
Castlebeck, which runs Cedar Vale, said it would learn lessons from the case.