£20m bid to speed up widening of congested A453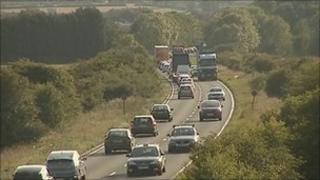 Nottinghamshire County Council said it has pledged £20m to encourage the government to bring forward the widening of the congested A453 route.
The road, which connects Nottingham with the M1 near East Midlands Airport, is one of the region's busiest.
The council said it had written to the Department for Transport offering to fund £20m of the £164m scheme.
The project was one of several delayed until at least 2015 as part of the comprehensive spending review.
But according to the Conservative-led authority, the government has since indicated it would like to identify a small number of "reserve" schemes where construction could potentially start earlier if circumstances allowed.
A decision on whether any of those schemes will be accelerated for early construction is expected later this year.
Improvements to the 11-mile single-carriageway route, which carries about 32,000 vehicles a day, have been under discussion since the early 1980s.
The Derbyshire and Nottinghamshire Chamber of Commerce has said that making the road a dual carriageway would benefit the region's economy by more than £320m.