Nottingham crash test professor 'saved' by helmet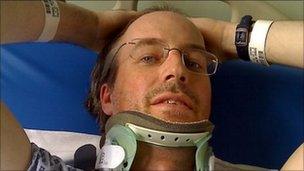 A Nottingham professor said his bike helmet had saved his life when he suffered the "ultimate ironic injury".
Donal McNally, 45, simulates accidents and looks at how the human skeleton reacts to stress. He was hit from behind by a car near Bradmore while cycling home in 2010.
The University of Nottingham academic suffered three neck fractures, a lower back fracture and three cracked ribs.
He is encouraging all cyclists to wear helmets and high visibility clothing.
The keen rider spent more than two weeks in hospital and four months off work after the accident.
"I was phenomenally lucky from the moment the car hit my bike. It was a high energy impact," he said.
Professor McNally has been conducting research into spinal mechanics for more than two decades.
"It was the ultimate ironic injury. Strength of vertebrae and vertical fractures are two of the things I do a lot of," he said.
"Had my body had that extra bit of energy taken by the helmet it could have been much, much worse.
"My GP says I am lucky to be alive."
Katharine Amina Choonara, 28, the driver of the car that hit Professor McNally's bicycle, pleaded guilty to dangerous driving at Nottingham Crown Court.
She was disqualified from driving for 18 months and given a 150-hour community service order.
Three cyclists were killed and 63 seriously injured on the county's roads in 2010, according to Nottinghamshire Road Safety Partnership.
Spokesperson Pam Shaw said: "There is an increase in cyclists at this time of year and we need to make drivers aware of this.
"Cyclists are among the most vulnerable road users."
Related Internet Links
The BBC is not responsible for the content of external sites.